Schienensysteme für Hochregallager
Sehr schnell haben sich weltweiter Handel und Warenumschlag entwickelt und das Internet wirkt dabei als Katalysator. Die Zeitspanne von der Bestellung zur Auslieferung muss immer weiter reduziert werden. Das hat für alle beteiligten Firmen zu dem großen Druck geführt, passende Waren-Umschlag-Systeme zu installieren. Deswegen gibt es heute immer mehr automatisierte Lager, Hochregallager und sogar tiefgekühlte Lager. Hierin arbeiten spezielle Regalbediengeräte, welche sich auf einer Bodenschiene bewegen und oben am Regal eine Führungsschiene haben. Eine sehr genau verlegte Schiene ist notwendig, um ein Schwingen des Mastes bei voller Geschwindigkeit zu vermeiden und so jede Position im Lager zuverlässig zu erreichen.
Die Integration von Transport, Lagerhaltung und Containerisierung in logistische Gesamtsysteme nimmt immer mehr zu. Dort wo schienengeführte Geräte zum Einsatz kommen steht Gantrail für eine korrekte und pünktliche Schienenmontage zur Verfügung.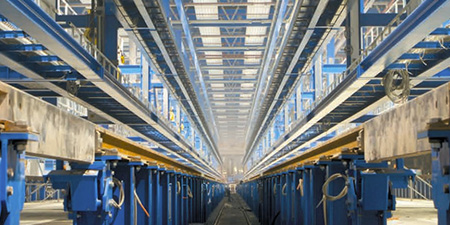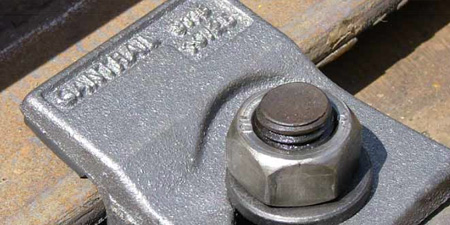 Flughäfen, Cargo-Umschlag, Intermodal-Terminals
Airports present particular challenges for the logistics managers. There are specific containerisation systems which have introduced more sophisticated automation and these often require some degree of storage to schedule items with flights and not impede the flow-line systems. Steel rail mounted cranes are one of the ingredients in these systems. Gantrail have been active supplying and installing rails at a number of airports.
Freightliner terminal are a specific element in intermodal systems where containers are transferred between road and rail transport. They normally have an element of storage but this is seldom the prime purpose. However they are effective in removing vehicles from roads which is judged as environmentally desirable. Needless to say they require reliable long term availability of steel rail mounted cranes.