East Coast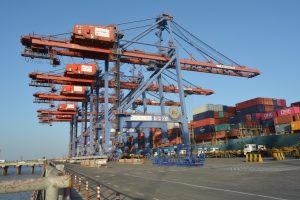 The US Eastern seaboard is home to some of the busiest ports in the world. Thousands of shipments are transported via East Coast ports every day to locations around the world.
At Gantrail and through our distributor network, we have worked extensively in many US East Coast ports. Our crane rail systems have been instrumental in improving the working environment of many of these port locations. In partnership with a distributor, we have designed and supplied all types of crane rail systems along the East Coast of the USA from the northern states around New York city down to Virginia and North Carolina.
Gantrail East Coast USA locations
Our extensive industry experience and prominent position in the US crane rail system supply chain has made us the premier choice for our crane rail expertise. Our crane rail systems have been used in the following locations along the East Coast of the USA:
South Carolina – Port of Charleston
Florida – Port Canaveral
Virginia – Norfolk International Terminals
Maryland – Port of Baltimore
Pennsylvania – Port of Philadelphia
New York & New Jersey – Port Albany
Gantrail specialist products for East Coast ports
At Gantrail, we offer our customers a comprehensive range of customized crane rail systems and all the essential ancillary products. In partnership with a US distributor, we have supplied a full range of materials most of which we have designed ourselves. Some of the products that have been regularly used in East Coast locations include:
Crane Rails
Soleplates
Adjustable soleplates
Rail clips
Rail pads
Anchor bolts
Epoxy grout
Cementitious grout
Aluminothermic Welding kits
Gantrail products have been used in a diverse range of industries from industrial steel production to log handling. Our crane rail systems can be used for various applications and can be engineered to suit different working scenarios.
For more information about our work along the East Coast of the USA, contact Gantrail today. Send us a message at info@gantrail.com and we'll respond to your query as quickly as possible.