Rail System Diagnostics
Crane rail systems have a working life dependent on the operation of the crane or machine on the rails. They are also dependent on sound foundations and reliable strong structure support. Gantrail have gained experience in the diagnosis of problems in many applications around the world.
Gantrail receive many photographs of problem crane rail installation every year. These combined with a full description of the issues can lead to a solution without the cost of a visit. But we can offer the full range of diagnostic analysis including observation of operation, accurate measurement survey, paint thickness monitoring metal hardness and composition analysis. Indeed any technique that will explain the problem.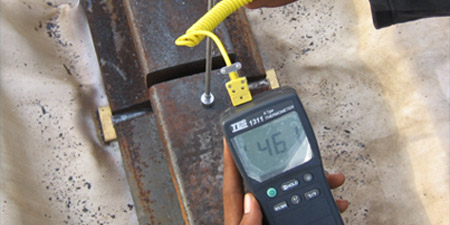 Design and technical support
We can deliver a valuable understanding of the special needs of your industry.
Appraisal of the proposed rail installation design.
An alternative new economic design if appropriate.
Supply of the supporting contract documentation i.e. outline welding procedures and method statements.
Calculations to support the design.
Inspection and appraisal of existing installations.
On site surveys
For every project, whether a new or existing installation we are able to conduct on-site surveys. The benefits of this kind of survey deliver real advantages right through the programme including:
Visual inspections highlight condition of rail and fixings
Identification of localized damage / deterioration
Assessment of new civil foundations ensures level tolerances are met
Communication with operators / drivers to assist in the investigation of specific problems.