Expert crane rail systems professionally designed and installed in industrial applications across the USA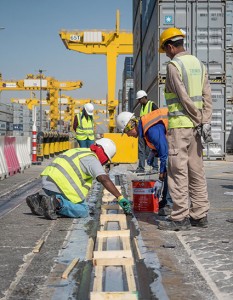 Crane rail design, supply and installation supervision
If you're involved in a US project where light, medium, and heavy-duty rail-mounted cranes are required, Gantrail can assist. As experts in the design and supply of customized crane rails systems including overhead crane rail systems, we can create the perfect solution for all your project requirements.
Whether you're involved in the construction industry or a variety of other industrial and commercial areas including marine, logistics, mining, and leisure, our crane rail systems can be designed for you. We have extensive experience working on a diverse range of projects and our expert knowledge enables us to provide innovative solutions for all your crane rail system problems and requirements.
Cement Plants
Log Handling
US Nationwide crane rails implementation
Gantrail, previously trading as Cranrail in the USA, have designed and supplied crane rail systems for a wide range of projects and clients across the whole of the US. These have ranged from supplying our crane rail fastening clips, pads, and surge connectors (tie-backs) to industrial steel production sites in many of the Midwest states such as Michigan, Illinois, and Ohio, to designing and supplying crane rail systems for cement plants in the southern state of Louisiana. Our outstanding service and professionalism has ensured complete project success.
At Gantrail, we have regularly supplied our crane rail systems including fastenings, pads, and adjustable soleplates to many of the US' main ports. Our fastening systems play a crucial role when handling containers and dry bulk materials at ports in preparation for national and international distribution. Whether you require container movement, dry bulk material distribution, or the transportation of heavy industrial materials such as steel or concrete, at Gantrail, we have the expertise to help.
US Crane Rail Systems Port Locations
Find out more about the use of our crane rail system products at ports in these US seaboard locations.
We are the crane rails supplier in the US near you so if you're based anywhere in the US and you'd like to find out more about working with Gantrail, contact us today. Simply fill in your details using our online instant contact form and we'll get back to you as soon as possible.