Industrial – Steel Production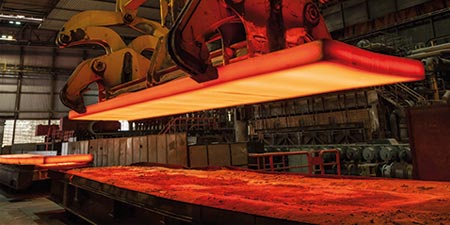 Gantrail crane rail systems and ancillary products have been used extensively in the steel production industry. The US steel production industry requires some of the toughest and hardest wearing equipment to withstand the constantly high forces which they are subjected to. Gantrail products have been designed for use in steel production factories where coke and blast furnace areas produce incredible amounts of heat. They are also capable of supporting extremely heavy loads of steel from factory to port for national and international transportation.
Gantrail products for steel production applications
Many Gantrail products have been instrumental in the safe and efficient functioning of the steel production process. The essential Gantrail products which are used in steel production are:
All Gantrail products are designed to meet all the necessary industry standards for safety and performance. They achieve a range of Lloyd's Register (LR) certification for compliance and have been tested to the most rigorous standards.
Steel production expertise for the USA
Gantrail crane rail systems have been used in the steel production industry across the Midwestern United States. Our products are used in the following US states:
Indiana
Ohio
Illinois
Michigan
Gantrail products have also been used in the prominent Pennsylvania steel industry. Steel production in the USA continues to thrive and require high performing rail systems for crane support. The US steel industry produces around 90 million tons of steel per year and employs around 150,000 people.
Sustainable steel production
Steel production today uses sustainable production methods with a high percentage of waste material being used as aggregate in reinforced concrete. Steel is now a highly recyclable material and rivals aluminum for its sustainability and its production has limited environmental impact.
At Gantrail, we are the crane rail supplier working across the US. If you're involved in the steel production industry and you'd like to find out more about working with Gantrail, contact us today. You can fill in your details using our online contact form and we'll get back to you as quickly as possible.