Gulf of Mexico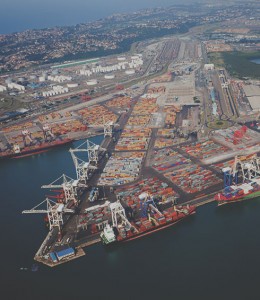 The Gulf of Mexico is home to several of the US' largest ports. Ports in Alabama, Louisiana, Texas, and Florida are perfectly located to distribute goods and materials northwards along the Eastern seaboard, southwards to Mexico and South America, and across the Atlantic to the rest of the world.
At Gantrail, we have designed and supplied crane rail systems to this variety of clients in this region working predominantly in ports and the production of steel, aluminum, wood and finally cement. The five leading cement producing states in the US are all located in the south. Large scale cement manufacturing plants are located in Texas, California, Florida, Alabama, and Missouri. From these sites, the cement can easily be shipped via the nearby ports along the Gulf of Mexico.
Crane rails for cement plant material handling in the USA
Cement is the essential material for all construction projects. A high percentage of US produced cement is used for concrete production. Around 70% of US concrete is sold as ready-mix concrete for use in residential and industrial construction projects. Cement plants are ideally located close to natural limestone deposits and near to transportation links via road and sea. This has made the Gulf of Mexico area, the perfect site for US cement production.
At Gantrail, we have supplied products to cement producers located in the Gulf of Mexico. We have designed, supplied and installed specialist crane rail systems to enable the safe movement and transportation of a range of cementitious products. Companies in the cement production industry, some of which we have supplied products to, include:
Lafarge Holcim – The US' largest cement producing company. LafargeHolcim have sites across the Gulf of Mexico in Houston Texas, New Orleans Louisiana, and Mobile Alabama. They produce cement, aggregates, and ready-mix concrete.
Cemex – With numerous sites across Alabama, Florida, and Texas, Cemex are a Mexican based company with a strong presence in the US. They produce cement, concrete and aggregates, and received the EPA (Environmental Protection Agency) star partner award for 2019.
Lehigh Hanson – With headquarters in Texas, Lehigh Hanson has 19 cement plants in the US located across Texas, Alabama, and Florida. They supply cement, aggregates, asphalt, and ready-mix concrete and place great emphasis on sustainability.
Specialist products for concrete distribution
At Gantrail, we have designed customized solutions for use in the cement production industry. We have designed crane rail systems which can support heavy materials such as concrete, aggregates and reinforced concrete, safely and effectively.
Our work at the port towns and cities located along the Gulf of Mexico coast has involved a range of different specialist products. The systems we have designed include crane rails, rail clips, rail pads and soleplates for a variety of applications. When installed, these also use specialist epoxy and cementitious grout to ensure a strong and stable base when operating heavy duty machinery.
Contact Gantrail today for more information about our work in the US marine and port industry and our projects involving clients in the cement production sector.