West Coast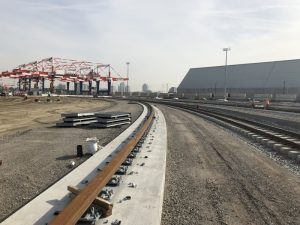 The West Coast of the USA stretches from the Canadian border in the north down to the Mexican border in the south. There are large ports dotted along the coastline where goods are shipped northwards to Alaska, to Central and South America in the south, and across the Pacific Ocean to Asia and beyond.
At Gantrail and through our partners, we have designed and supplied crane rail systems for use in various port locations along the West Coast of the USA. From the cement plants of California to the logging industry of Oregon, we have purpose-designed crane rail systems for various specialist applications.
Gantrail West Coast USA locations
The West Coast of the USA is shared by only three states. California (Port of Oakland, Port of Long Beach, Port of Los Angeles, Port of San Francisco) occupies a large portion of the southern part of the continent from San Francisco down to Los Angeles and San Diego. In the north the states of Washington (Port of Seattle, Port of Tacoma) and Oregon (Port of Portland) are closely linked to trade with Canada and also provide the perfect location for Alaskan bound goods.
At Gantrail, our crane rail systems have been used at many West Coast port locations. A great case study is in California for Port of Long Beach where our adjustable soleplate system was used for both he ASC and RMG cranes where future settlement of the crane rail presented a design challenge for our engineering team to overcome.
Strong and secure crane rail systems for port applications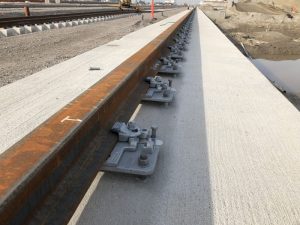 At Gantrail, we work closely with our customers to design customized crane rail systems to meet a range of industry-specific criteria. The team at Gantrail have decades of combined engineering experience. This has helped to place us as leaders in the crane rail system industry, with our products viewed as strong and reliable across various applications.
Some of the ancillary products which are vital in the design and installation of our crane rail systems include: rail clips, rail pads, soleplates and adjustable soleplates, anchor bolts, epoxy grout, and cementitious grout. These products and materials have been supplied to USA West Coast ports by a US distributor to ensure that our crane rail systems can be correctly installed.
Contact Gantrail today to find out more about the use of our crane rail systems along the West Coast of the USA.