Rail systems for Ports & Harbours
Gantrail have been supplying and installing crane rail systems in ports, harbours and shipyards from the companies earliest days. Early installations include a goliath crane track for a super tanker shipyard and bulk material handling for coal, iron ore and other raw materials for steel and aluminium manufacture as well as for power generation.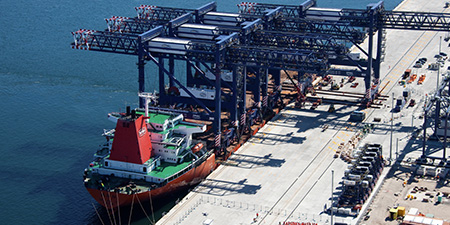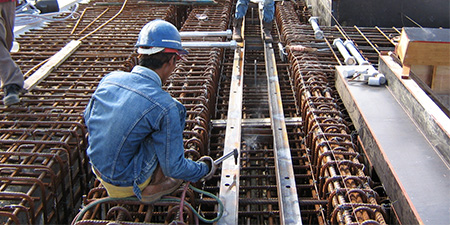 Crane rail systems for container terminals
Container operations at ports have been areas of considerable development in recent years. The increased size of vessels, increased weights of cranes and computer automation have had a significant impact on the loads the civil engineering structure have to carry from cranes and other machinery. Ship to shore cranes are now able to lift more than one container at a time. They can often employ sophisticated sway control on the movement of loads. The generation of new land from the sea can entail piling operations for the rail support beams. These move during construction and due to subsequent settlement. These movements must be absorbed without loss of rail positional accuracy. Besides the container cranes there are container handling and handling facilities including automatic stacking cranes (ASCs), rail mounted gantry cranes (RMGs), rubber tyred gantry cranes (RTGs) and full intermodal facilities. Gantrail have been at the forefront of designs for crane rail applications in these applications.
Rail systems for Bulk Handling Ports
Ports involved with the bulk shipment of materials have to provide for the berthing of the ever increasing sizes of vessels as well as the facilities for receiving, holding blending and storage of the bulk materials. The port forms the railhead for sometimes distant mines, open cast workings and even chemical works. The ship loaders/unloaders have some similarities to container cranes but the bulk handling presents different challenges as they operate in an atmosphere, which is often dusty, as well as having a corrosive environment. Some ship to shore facilities are on piers that are located a significant distance off the shore with consequent higher environmental impact. On the landward side, there is often the challenge of building stockyards with stacker reclaimers on land that is not very stable. Accurate crane rail installation is a job for Gantrail.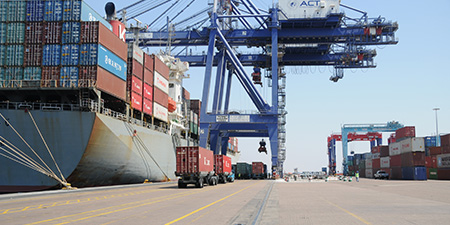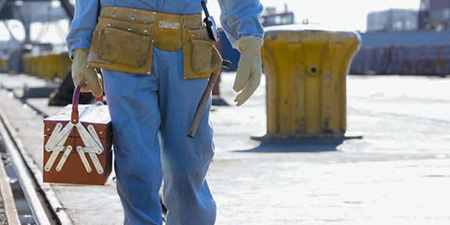 Crane rails for shipyards & shiplifts
Shipbuilding has gone through changes in recent years. The largest of vessels are built in yards, which launch ships down slipways. Goliath cranes tighter with smaller machines do the lifting. Smaller vessels tend to be built in facilities where all the construction work is done at a single horizontal level. These are equipped with extensive rail systems to allow vessel sub-assemblies to be fabricated under cover and then, moved on a number of trolleys or cradles. Sub-assemblies are connected to finish the vessel which is then rolled to the lift for lowering into the sea. In some yards, there is a need to cater for significant design uplift forces on the rails and Gantrail have clips to meet these needs.