Gantrail knows that one of the things that sets them apart from others in their field is the long standing service and loyalty of the people who make up their brand throughout the world. Like any business, they appreciate that with physical products aside, a huge proportion of their commercial success and continued development comes from the people within the organisation. And it is with this in mind that they have recently launched a new recognition scheme.
Speaking of this, Managing Director Malcolm Trigg said "The new scheme is one whereby we want to formally acknowledge the long service that our teams demonstrate. Loyalty is a key factor for us, and the relationships and expertise that develop throughout our teams, with customers, contractors, suppliers and partners alike are extremely valuable."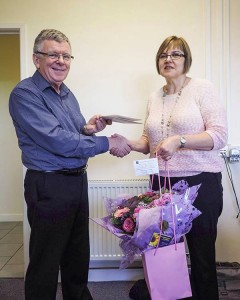 The scheme recently launched with a presentation to Lyn Martin, Customer Services who celebrates 10 years with the company. Lyn was awarded a bouquet of flowers and a restaurant voucher by way of a thank you for the continued service and support that she has provided. Since starting with Gantry Railing Lyn has seen her role develop. Primarily acting as the bridge between the production and sales function, Lyn's responsibilities have grown with increased involvement with IT operations and estimating. The diversity of her role is matched by her flexibility and broad knowledge base, making her a critical component of the Gantrail team.
Acknowledging the contribution that Lyn has made over the last 10 years Malcolm added "Lyn's continued loyalty, energy and commitment to the company, her colleagues and our valued customers has been felt by all that have worked alongside her. Her drive and passion for the brand, even 10 years on is something that brings me absolute pride and I am delighted that we have been able to recognise the very positive impact that she has had on us all. Recognising the valuable contribution that Lyn and all others make every day, we know that it is in fact our people that are one of the key differentiators that our brand has and we will work hard to protect that."
Speaking of her award Lyn said "I was delighted with this recognition – it underlines the reasons why I have stayed with the team here for so long. It is a superb place to work with a real sense of team spirit and shared vision. I would like to thank everyone that I work with for making the last 10 years such a pleasure."