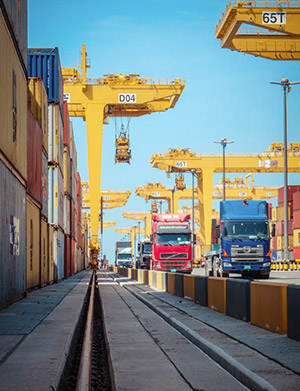 2015 sees international crane rail experts Gantry Railing celebrate their 50th Anniversary year, and it is quite fitting therefore that to mark a half century of innovation, product development and continuous commitment to quality,this year also sees the launch of their latest innovation in crane rail clips – the 1 Series.
Designed to meet the developing market need for a system with a smaller footprint, the Gantrail® team felt that this was an area that they could investigate. And drawing upon their extensive expertise in this area, they spent 2 years researching and developing a new range formation which has now been launched as the Gantrail 1 Series.
Managing Director Malcolm Trigg says "We knew from our ongoing dialogue with designers, engineers and our distributor network, that the market was facing increasing challenges around materials costs. Therefore the need for a smaller clip was clear. However we were also aware that there the forces on rail systems were set to increase. Logic would suggest that to meet increased forces, a larger clip would be needed, but actually the reverse was true. Through ongoing testing we discovered that by amending the design only slightly, we could in actual fact make significant improvements to the performance."
An interim range of products was launched mid-year which met the requirement for a smaller footprint. But the development team continued working on the product to further improve test results and reduce the size even further.
Malcolm continues "This is a really exciting time for us and the interest already shown in the product is very encouraging. Specific interest has come from our American, Asian, Australasian and European markets. And we also see this as a real opportunity to extend our presence in Central and Northern Africa."
In addition to the smaller footprint, an impressive range of features and benefits have been engineered into the new design as Stephen Engert, Project Engineer explains. "The new designs offer greater adjustability and reliability, not only in terms of installation but also for ongoing maintenance. New materials have enabled us to produce a clip which will meet the increasing forces put upon crane rail systems with a greater side load capacity and increased lateral adjustment. And specific features such as galvanizing weep holes, new pad retention geometry, a new captive bolt design and new clip cap and base design come together to produce a clip which will not only meet what our clients are asking for, but deliver real added value benefits throughout the life of the crane rail system."
To download datasheets for the new 1 series visit our Crane rail fixing clips and click each download from the table.