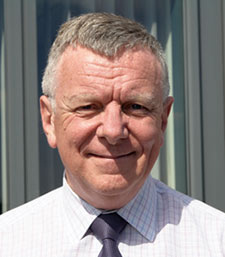 Gantry Railing, one of the worlds leading experts in crane rail engineering marked its 50th anniversary last year. It is no small feat therefore that Managing Director Malcolm Trigg recently marked his 25th year as part of the business.
Now MD of the global operation, Malcolm started out with the Gantrail team as Sales Office Manager back in 1992. And during this time has worked his way up through the organisation taking on the role of Sales & Marketing Director, then onwards to his current position of Managing Director which he has held since 2010.
A true brand champion with an utterly deniable global reach and impact, Malcolm has made it his mission to embody everything that the Gantrail brand represents; expertise, passion, industry insight, outstanding customer service, innovation and an unwavering promise of quality- be that as a leader, a colleague, a supply partner or an industry influencer.
Speaking of this significant milestone Malcolm says:
"It really has been a real privilege to have been part of this incredible team for so many years – the time really has flown – quite literally with the incredible opportunities it has given me to travel the globe and meet industry professionals and work on some outstanding, industry changing crane rail projects. If I look back on the last quarter of a century I am immensely proud of the projects that we have worked on and the very special relationships that the Gantrail brand has forged; with clients, distributors and across our own international teams."
It may take the average person more than 25 years to plot the miles travelled, the people met and the projects delivered by Malcolm throughout his tenure so far. But the good news for the industry and all that have the pleasure of working with him, is that Malcolm has no intentions of heading off anywhere just yet.
He continues:
"These are exciting times for Gantrail globally – for our clients and our teams, as we move into a new phase of the brand with Gantrex. I feel proud to have steered the ship this far and towards a new world of opportunity and quality, and as part of the board, I will continue to be very hands-on in the future direction of our business."