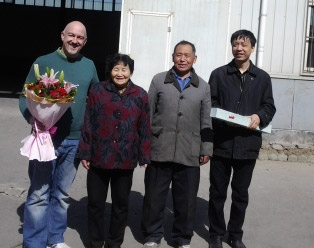 In line with the ongoing expansion and restructuring of their overseas operations, the Gantrail team are this week celebrating as full production has started at their brand new facility in China.
The new site, which provides almost 1100 sq metres of space has reached full set up and production capacity within only a matter of weeks, thanks in no small part to the project management by David Howells who has been on-site co-ordinating the move and liaising between the UK and China.
Whilst the opening of the new site is a cause for celebration, the move to new facilities did tie in with the retirement of a very loyal and dedicated couple who, for more than 7 years have dedicated their time to managing the security and the safety of the old site. Known affectionately as 'Grandma and Grandpa' by all within the Gantrail team, they took the opportunity to retire from service.
Speaking of their retirement Malcolm Trigg, Managing Director said "I know that I speak on behalf of the whole team when I wish Grandma and Grandpa a very happy and exceptionally well deserved retirement. Their constant presence and commitment has made them part of the fabric of our organisation and they will be dearly missed."
David Howells and John Wang presented the couple (pictured) with a bouquet and a plaque in thanks for their service.