Malcolm Trigg recently celebrated his retirement as Managing Director of Gantrail. Having joined the company 27 years ago, Malcolm has quite literally delivered the Gantrail brand to customers, contractors and consultants worldwide and been instrumental in building the reputation that the Gantrail brand now has on a global stage. In this interview Malcolm shares the secrets of his success and we hear from others who have been with him on his remarkable journey.
Where did your journey with Gantrail begin?
I joined the company in 1992 as Sales Office Manager at the Head Office in Gloucester. At the time Gantrail were looking to expand overseas sales and were looking at building a network of distributors and agents to do this. I was keen to take on a new challenge and felt that this was a company that was growing both in size and in sophistication.
I liked the company straight away but I also recognised the lack of a formal approach to marketing or strategic sales. The team at the time comprised 13 people with a small network of agents and distributors. Its worth pointing out though that there are a couple of distributors from those early days that are still working with us today, Krug and Kranel to name just two.
Retiring now as MD, 27 years on the company is in a very different position. What do you think has been the secret behind your success?
From the very start I was always happy in front of a customer. Out on the road, meeting new people, and building relationships; this is what I loved to do. To me this seemed perfectly natural. I remember I used to get in my car, like many in those days, with no satnav and no channel tunnel, and I would sit with my carefully planned out maps and routes that I had worked on the night before, and set off on some epic road journeys. I would travel around Europe, clocking up 1000s of miles and be away for up to 3 weeks at a time. The effort that I put in was quickly recognised by those that I met and the effort was respected. Before too long I was expanding my radius of travel and setting off further afield to extend our network. So, really, the secret to my success was quite literally going the extra mile and taking myself and the Gantrail brand out on the road to meet the people that we wanted to work with.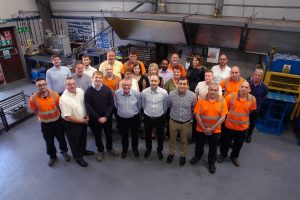 Of all your achievements during your time at Gantrail what are you most proud of?
It's almost impossible to choose just one – there have been so many highlights. If I may I will call upon three.
Firstly, the fact that Gantrail is now a global brand sitting front of mind with the major contactors and consultants throughout the world.  We are globally recognised as a world leader in our field and I am proud of the part I played in making this happen.
Secondly, I take immense pride in seeing the way that the technical expertise of Gantrail has developed. The research and development that takes place plus the culture of innovation and continuous improvement which is now firmly bedded into everything we do; these come together to enable our Technical team to design and develop cutting edge products that answer some of industries greatest crane rail challenges.
And finally, a real milestone for the business, and me was when we broke into North America in 1996 and started working with Atlantic Track who we still work with to this day.
What most excites you about the future of Gantrail?
I truly believe that the team I leave behind is the best team that there has ever been at Gantrail. This coupled with the new technology and opportunity that is available to them means that they will go from strength to strength and really build on the great position that they are now in.
I am so proud of everything and everyone and I know that you will all continue to do well. I know that I am leaving Gantrail in the most capable of hands and I look forward to watching how the company continues to develop and thrive, taking advantage of the fantastic opportunities that lie ahead.
Peter Bygrave, who Malcolm was directly responsible for bringing on board, takes over as Managing Director, building on the work that Malcolm has done.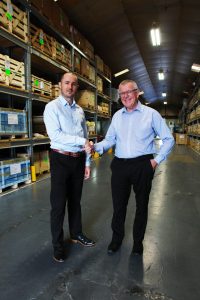 Peter, how did your Gantrail journey begin?
When I started with the company in 2001, I came on board as an Applications Engineer and part of my role was to support Malcolm's sales efforts with Technical support and presentations.  I briefly left the company in 2002 to expand my knowledge in a range of engineering disciplines but Malcolm was instrumental in bringing me back to the company as Technical Manager in 2003.  He must have seen something in me for which I am eternally grateful.
And how would your sum up the contribution that Malcolm has made?  
Malcolm has always had a strong vision for the company and big ambitions. Since he joined as Sales and Marketing Director, he has almost single-handedly put the Gantrail name on the world stage, where we are now considered one of the world leaders in crane rail system technology.  During that time, he has created not only a family of long-standing employees within the company, but also a diverse family of agents and distributors, the world over, whom we have worked with for many years.
So Malcolm, to wrap up, how would you like to be remembered?
I hope that people remember me for the effort I put in, during the good times and also during times that were more challenging for us all. I hope they see me as someone who never gave up and, just like a family, we kept smiling and worked hard together to keep moving forwards. I would like to be remembered as someone who was passionate about the company and the industry and who played fair – never discrediting the competition and never embellishing the truth. Just a straightforward guy, who worked hard and did the best for the company and everyone that I met along the way.
I wanted to sincerely thank Malcolm for all these years of excellent cooperation. Thank you for his professionalism, listening and support during many years. I really wish him the best for the future and I want to tell him that I was proud to work alongside him – Claudiu ORODEL – Asecom Rails

I was introduced to Malcolm … on the Mozal Project in Mozambique in early 2000's.  We had been looking for a complimentary product to our existing product range at the company I then owned, Horne Hydraulics. Malcolm made several sales and marketing visits to South Africa to get my technical and sales team up to speed. Every one of those visits were memorable-once Malcolm starts with his story telling, we all go silent and listen intently to his many experiences and interactions from his travels around the globe – Hamilton Stephenson – Technogrid (Pty) Ltd